It's fine weather for

Barleywine

!
Last night I attended the 2007 release of

DuClaw's

Devil's Milk

Barleywine

at their
Bel Air location
. It's fresh from a fire restoration; you can almost smell the sawdust. Unfortunately the new setup isn't much bigger than the old restaurant, in terms of seating and room. One would think dragging the

brewhouse

out and starting with a clean slate would make for a prime opportunity to expand, given their popularity. The upstairs is walled-off, presumably holding a banquet room. But last night it was standing-room-only at the bar and at least an hour wait for a table. If they did design it bigger than it previously was, they seriously undershot.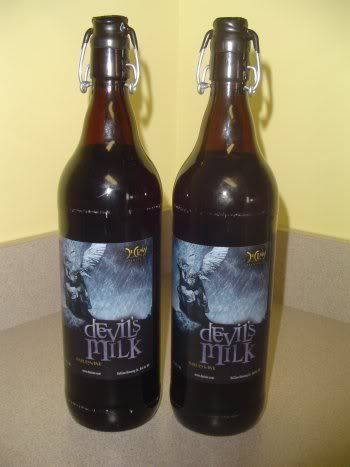 Fortunately, irritation was easily soothed by a good selection of very good beer. On tap were their Porter, Belgian Wit, Oktoberfest, Wheat,

Blonde

, Amber, Pale Ale, and of course, the

Barleywine

. 6:55pm hit with a short presentation for the release on all flat-screened video monitors in the bar. The lines were already forming at the email-club table. Once 7:00pm I headed to the bar and ordered-up and by 7:01pm I had a snifter of

Barleywine

in one hand and a growler full of it in the other! I don't need to go into detail of its virtues. Suffice it to say it's excellent, it's worth driving an hour each way for, and a lot of beer drinkers
feel the same way
.
Last year, they released their

Barleywine

in wax-sealed 1L flip-top bottles in addition to their normal release. I grabbed two; one lasted a month tops, the other is still in my cellar "beers-not-to-touch-for-a-while" collection. Also last year they ran through 15 kegs of Devil's Milk in one night at their Bowie location and sold out of it soon after.
Word to the wise: if you're

jonesin

' for some Devil's Milk, get there NOW. Whoever first said "while supplies last" never had a good glass of

Barleywine

.